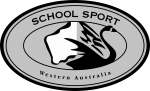 THE MOST ACTIVE PRIMARY SCHOOL AWARD
This award was established in 2018 and acknowledges those primary schools that compete in School Sport WA Champion School competitions.  Schools are awarded participation points for competing in any of the events that are run by a School Sport WA Sport Coordinator or are run in conjunction with the relevant State Sporting Organisation.
Schools are awarded one point for each competition they participate in, with the top 3 schools being acknowledged.  In the event that two or more schools have the same number of points for their event participation, the total number of teams across all events will be used to determine the ranking.
The winning school  receives a Perpetual Shield and a smaller replica shield.
| YEAR | FIRST | SECOND | THIRD |
| --- | --- | --- | --- |
| 2021 | Rosalie Primary School | Frederick Irwin AS | Peter Moyes ACS |
| 2020 | No Award | | |
| 2019 | Rosalie Primary School | Oberthur Primary School | Hocking Primary School |
| 2018 | Rosalie Primary School | Hocking Primary School | Riverton Primary School |