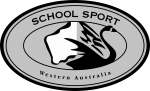 School Sport WA (SSWA) is an association of school teachers whose principle purpose is to promote, organise and coordinate sporting competitions for school students at a local, regional, interstate and international level.  School Sport WA caters for all students and encourages maximal participation in a range of quality sporting programs. The extent and intensity of the competition is varied and based on the experience, skill level, maturity and interest of the student.
Teachers are automatically recognised as members of SSWA when the Western Australian Department of Education formally recognises a school in the delivery of Primary or Secondary schooling or the Board accepts an individual application for the 'Teacher' or 'Associate' membership class.  Individual nomination forms are available from the SSWA Office.
School Sport WA is overseen by a Board of Management that consists of Primary and Secondary Teachers elected at the SSWA Annual General Meeting.  
In conducting its affairs, School Sport WA works in close cooperation with the Department of Education, other educational sectors, State Sport Associations, local government, key organisations in other states, schools and other agencies.
School Sport WA employs six full-time and two part-time officers; a Manager, three Executive Officers, a Sports Administrator, a Junior Office Administrator and two Finance Officers. 
Teachers in schools contribute voluntary time on behalf of the Association to ensure the success of the various competitions.