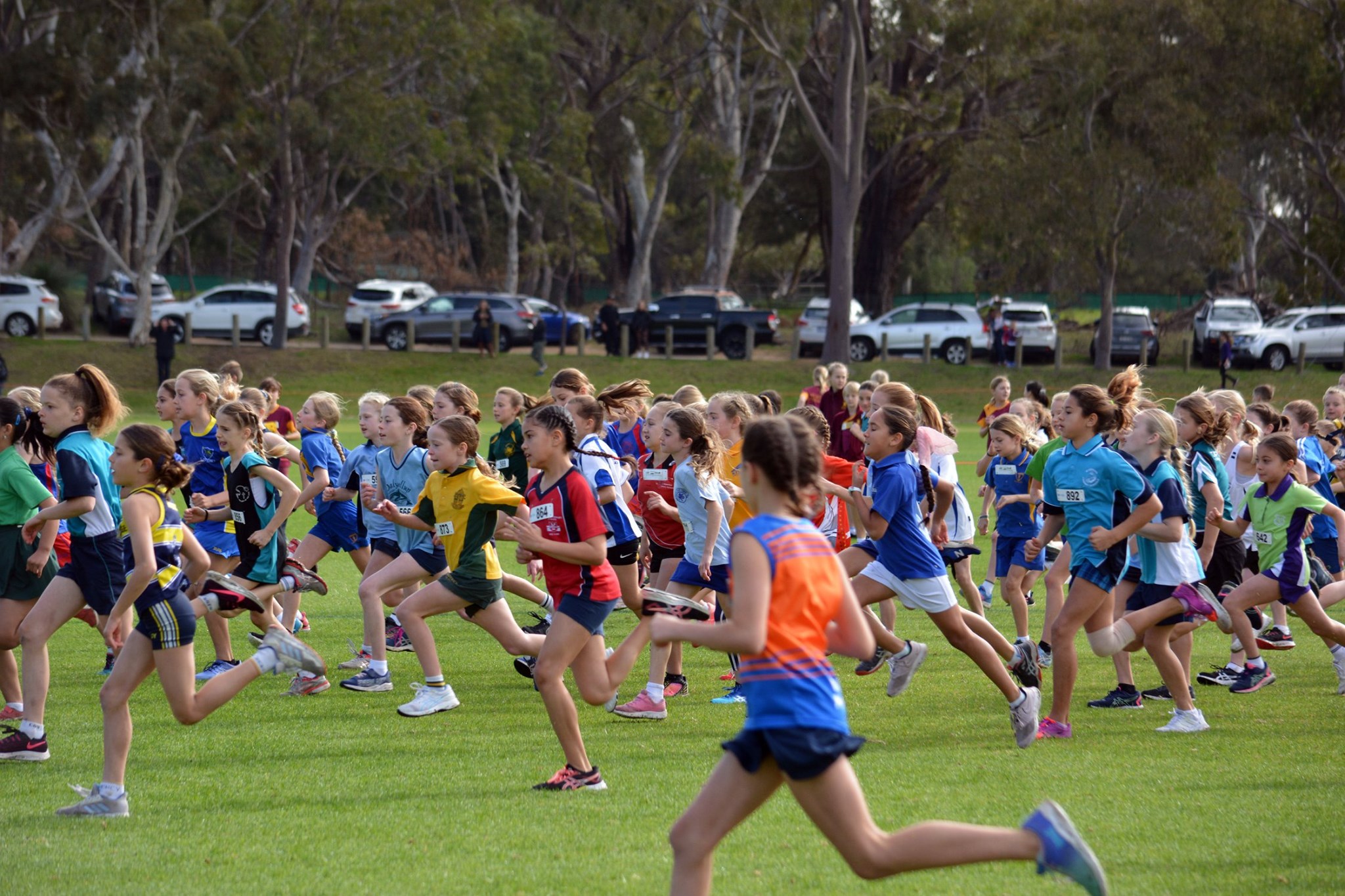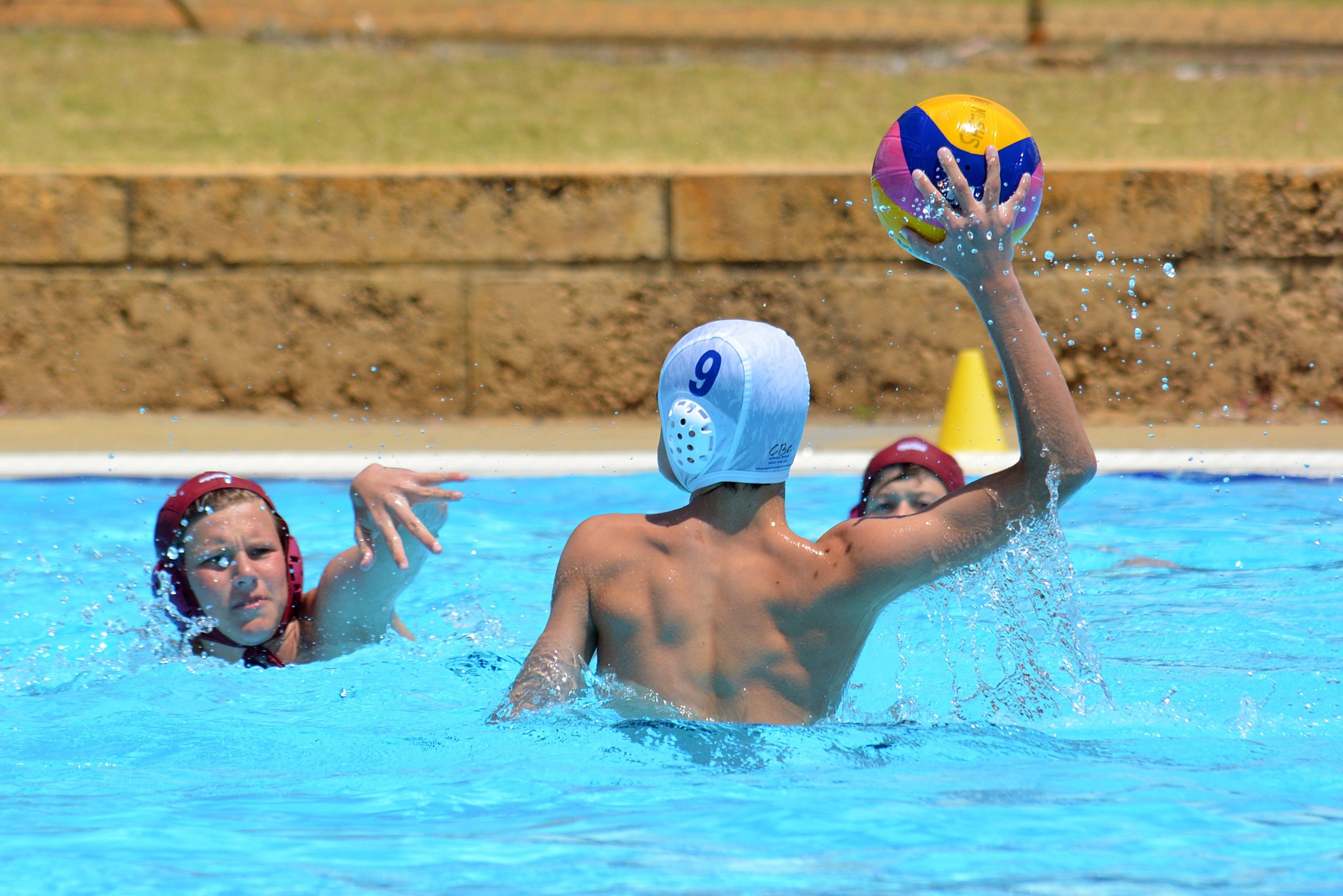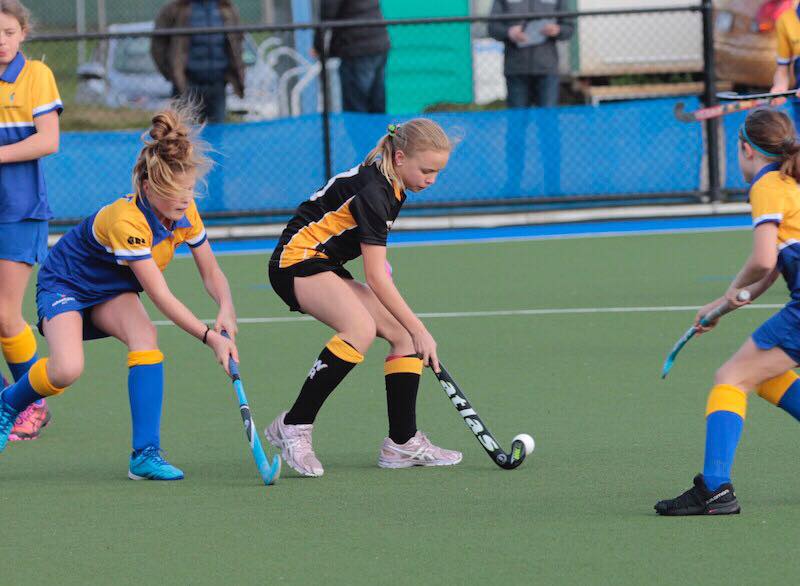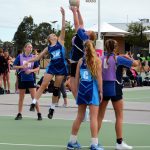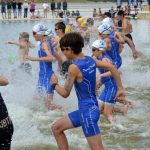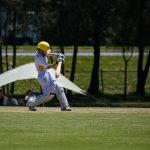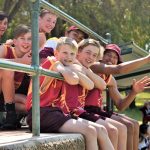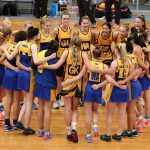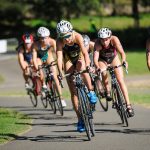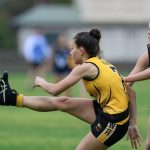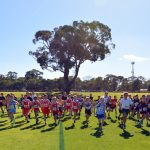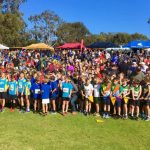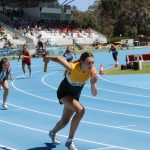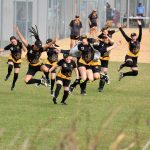 School Sport WA is pleased to be once again participating in the School Sport Australia National 15 years and under
The 2023 SSWA Primary Track and Field  Carnival will be held as a twilight event at UWA Sports Park, on
A busy day at the State Athletics Centre today with 16 schools competing in the Black and Gold carnivals.  The
'Hard to identify one point as a highlight, for us, it was seeing constant moments of little wins the boys had. It was seeing the boys 'get around' someone who was feeling down, the chatter that one would start and the others would follow in the field, the giggles and retelling of tales, showing support for opposition players, and the true camaraderie as a team.'
- 2019 Cricket 12s Parent Highlights -
'We were so impressed with our team staff, who after every game, not only ensured that the boys changed into their training gear, grabbed a water bottle, and put a hat on, as they did a proper cool down… The players' health and well being was priority, with staff ensuring the boys were drinking enough fluid before, during and after the game, as well as ensuring they were eating appropriately.'
- 2019 Cricket 12s Parent -
The cap presentation at the WACA ground, photos with the historical WACA scoreboard in the background…. 'The opening ceremony and seeing WA, host state, walk out proudly.' 'Watching the girls conduct themselves beautifully throughout the week….Watching them develop as young exciting cricketers.' '…such a great experience to stay together as a team.' 'I enjoyed seeing my daughter compete against quality opposition, provide leadership and encouragement to her team-mates when they were struggling with form both batting and fielding. The feedback from both our Coach, and Assistants was very welcome… positive but also providing fantastic feedback to work on for future development.'
- 2019 Cricket 12s Parent Highlights -
'Coach was very well organised and ran a great program in the lead up to the tournament Highlights: Friendships and playing lots of cricket.'
- 2019 Cricket 12s Player -
'Watching the girls grow and make friendships that will carry on after the games.'
- 2019 Cricket 12s Parent Highlight -
The standard of care at the championship from the managers, coaches and staff was good. The girls were constantly kept busy but cared for. They felt safe.' 'The Team staff were a highlight! We were very impressed by the professionalism shown by all the Team Managers, Coaches and support staff. They were able to communicate appropriately to the athletes and look after their welfare!'
- 2019 Touch Football 12s Parent -
Thanks for the opportunity for my son to represent his state, I realise that if you didn't do the hard work behind the scenes he wouldn't be able to travel and have the fun he did.
- 2019 Touch Football 12s Parent -
'… it was an amazing event to be part of. It encourages players to represent their State and School with respect and provides the players with a lifetime of special memories.' 'Amazing! Not only did my son learn so much about his tennis but made some new like minded friends from other states . 'Watching all our team members play hard, but most importantly had great sportsmanship on & off the court.'
- 2019 Bruce Cup Tennis Parent -
'My daughter found she was welcomed and embraced by the whole team, managers and parents … She made new friends and thoroughly enjoyed the level of playing and umpiring.'
- 2019 Netball 12s Parent -
This was an amazing experience for my daughter. The tour was very successful in giving WA a medal but more importantly personal characteristics of determination, hard work, resilience, fun, collaboration, mental strength were all developed with training and during this tour. I applaud and thank Bree, Georgie, Ellie and Marion on their huge role in the development of my daughter as a netballer and personally'.
- 2019 Netball 12s Parent -
The whole experience has been a highlight for our family. The training from Bree, Georgie, Ellie and support from Marion has been phenomenal. They worked together to create a week that ran smoothly and was highly organized and successful. The children were so well cared for and catered for. Their food was excellent. Their recovery sessions and nighttime routines were great. The player development sessions with girls from other states was a highlight. My daughter enjoyed all the excursions and extra activities. The team chants from all the states were great – ours was, of course, the best! Bree and the team went out of their way to have fun and bond with the girls in the evenings'.
- 2019 Netball 12s Parent Highlights -
'My daughter really enjoyed her trip to Canberra – worth every dollar.'
- 2019 Netball 12s Parent -
For my daughter… meeting the other team members and making life friends. Hanging out with like minded individuals. In her words "I loved hanging with the team, it was the best!" 'Accommodation for the team was brilliant according to her and food too.'
- 2019 Triathlon Parent -
'It was a good experience as I learned a lot about the expectations of being on the state team and gained experience racing in a draft legal race. My teammates were always there to offer advice'.
- 2019 Triathlon Student -
'Just love the way SSWA organise everything, the Manager, Graham, does an awesome job of keeping the bulletins coming with all information included, rarely do you need to ask questions. Thank you for your time and effort Graham'
'The communication from the staff in Netball 15's was second to none. Having had my children in many state and rep teams across many sports, I found this one almost running to perfection. The supervision, dietary and support needs were all catered for.' 'Well done to the coaches, manager and trainer. They should all be commended on their professionalism and management of these kids.'
- 2019 Netball 15s Parent -
Thought team preparation was excellent going into the tournament in Queensland. I loved the high level training the coaches did with us leading up to the tournament. I love being part of a state team and making great friends with girls from different netball associations and being able to play netball at a high level. Making the state team is something I will always remember and was a fantastic experience.'
- 2019 Netball 15s Student -
The state team experience I would highly recommend to anyone! The learning experiences that you see your child go through you'll never forget! That look when they know they are doing well, that smile or determined look when they are playing, the laughing and chatting with their friends whilst doing something they love is the best!
- 2019 Netball 15s Parent -
'GOLD! The singing, the dancing and the laughs.'
- 2019 Volleyball Parent -
'Live streaming of all matches was excellent. (Great for post match reviews with your kid, everything is laid bare) Facebook updates and pictures was excellent. Watching the girls play, great team, great development, did WA proud.'
- 2019 Volleyball Parent -
' Lorraine, Coach David and Manager Justin were brilliant. 2. My son loved the team culture and the volleyball experience. 3. Loved the live streaming. Thanks so much.'
- 2019 Volleyball Parent -
'Training was very well run and the coaching was respectful, encouraging and demanding. Communication worked well and always was positive and helpful. I loved watching the girls train and seeing their improvement as a team. It was fantastic to have the Bendigo games shown live as it allowed extended family to see the games.' 'Team preparation was excellent and went above and beyond expectations. Communication was efficient, timely and informative. Gemma was an excellent coach and Tracey a fantastic manager. Keith did a great job as team leader. These three repeatedly set up the future of hockey in WA from the grass roots.'
- 2019 Hockey 12s Parent -
'Great preparation of the team from Bunbury onwards. Really fantastic coaching from Botts which was encouraging and supportive. All the boys knew the team rules, all of them lived and breathed them and they became a very tightly knit group of boys from a disparate raggle taggle at the start. Great to teach them about importance of nutrition, warming down, looking after themselves'.
- 2019 Hockey 12s Parent -
Exceptionally well organised by Tracey, Gemma & Keith. We received regular updates via email, phone, the team app and also the team newsletter. After every training session or game, the girls and parents were also briefed and they were always available for a chat if we had any questions. As a Kalgoorlie family making the commute every week for training and games, we couldn't be more happy with the support our daughter and our family received'.
- 2019 Hockey Regional Family -
Travelling with the team and representing WA with pride. – Our manager looked after us very well, and had a good understanding of hockey too which always helps. – The coach made us write down goals for the tournament on our first day and then we reviewed them with him at the end of the tournament which I felt benefited me. – The SSWA uniform is very good and comfortable! – The whale watching excursion was a good too'.
- 2019 Hockey 16s Student -
Team preparation, communication and support was excellent…camp and training sessions were excellent'.
- 2019 Hockey 16s Parent Highlights -
The highlight of my trip was the overall sense of community and support I had behind me while I was playing. I always had someone to talk to if I wasn't sure of anything the coaches are extremely nice and approachable'.
- 2019 AFL 15s Girls Student -
'Communication was great with emails and at training . Support was offered by staff. In particular Ollie was open and very supportive to myself and daughter when we approached him with questions. Felt he was genuine, caring person and coach. Team preparation was always professional. My daughter learnt a great deal throughout the process'
- 2019 AFL 15s Girls Parent -
'Overall I have been super impressed. My daughter has only experienced playing with the boys so this opportunity has been great. The structure for her has been amazing. Taking her out of her comfort zone … has been a great character building exercise for her and being surrounded by coaches she relates to and respects has been awesome. She wouldn't have got through the week with out you guys and her team giving her the confidence she needed'.
- 2019 AFL 15s Girls Parent -
'Watching the boys come together as team mates and friends. Being able to come into the change rooms after the games. Finishing with a bronze medal. Meeting the parents and coaching staff'.
- 2019 AFL 15s Boys Parent Highlights -
'My son had a great experience and made memories and friends which will I hope will last for a long time'.
- 2019 AFL 15s Boys Parent Highlights -
'Professionally run program, parents kept in constant communication by Alex at all times. Cannot fault the program at all … Just seeing the enjoyment the boys were having playing together day in day out, and the new friendships my son now has as a result of being in the team'.
'The boys making new friends. They boys having to be more independent. The way the team bonded together over the wins and losses. The opportunity to make friends with other parents'.
'Fantastic my son described it as the best thing ever in his life!!'
Overall, the state team experience was awesome and unforgettable. I want to go back! Everything really was amazing, from starting the week in our villas to eating as a team, training, playing and leaving on the plane. It was just extraordinary living life just doing football related activities and always being around your friends. There is no way I can actually rate this trip because it was too good'.
- 2019 Football (Soccer) 12s Student -
'As a parent we could not ask for anything more from SSWA and of course Scott and Vicky Halpin. They were amazing in how they treated our kids and nurtured them through what was a pretty hectic week no doubt and allowing the girls to perform to the best of their abilities'.
- 2019 Football (Soccer) 12s Parent -
'All communication from SSWA was excellent in the lead up to the tournament. Not once were we questioning if anything had been missed. Any changes to training schedule was provided with plenty of notice. Scott and Vicky were amazing in keeping us updated throughout and never had an issue answering questions to us "first timers" '.
- 2019 Football (Soccer) 12s Parent -
'My son loved it. He enjoyed the life skills he learnt whilst he was away such as washing up and keeping his room tidy'.
- 2019 Football (Soccer) 12s Parent -
'I was totally thrilled by the level of communication and organization of this whole experience. Hats off to you guys, professional at all times and really made my daughter feel welcome and needed. We have been involved with other organisations for the last 5 years and unfortunately they have a long way to go to reach your standards'.
- 2019 Football (Soccer) 18s Parent -
'Everyone in the team contributed to the success of the team, motivation was excellent. This my daughter's 3rd experience travelling with the team'.
- 2019 Football (Soccer) 18s Parent -
'Watching the girls hug and smile after a win. Witnessing the growth in my daughter, socially and technically. This experience has to ignited her passion for soccer'.
- 2019 Football (Soccer) 18s Parent -
'Really positive and team building. Great life experience and opportunity for the kids. Teachers, tour leaders and coaches were nurturing, fun and attentive and met all the kids need a when needed. It was my daughter's first time but she is already looking forward to the next!'
'My daughter returning from her tour- the first words out of her mouth ' that was a fantastic trip'. She made wonderful friendships with the whole team, felt supported by her fellow team mates & the adults. She has been on other tours with her own swimming club but this tours surpassed all previous tours!'
'My son has grown in himself and become more confident over the last 2 years of being on this team. Hope fully next year a leadership roll will present itself for him to cap of this fantastic experience'.
'These sporting tours are a fantastic opportunity for athletes. As a parent we appreciate the efforts in organising & the contribution escorting adults offer- Thank you to all involved!'
'My daughter had been in a previous state team (not SSWA) and had a terrible time. I allowed her to try for the SSWA Softball team as I noted my friends in the SSWA Hockey team had had a good experience, and I thought the supportive structure of the SSWA system might be the difference. I am so glad she did. She has enjoyed the whole process, and come away from the tournament with great memories and a heightened understanding of the game'.